Let you think, beyond you think!

our services
Go to Business Consulting
Business Consulting
Management & Strategic consultancy, Process Study & Review, Standard Operating Procedures, System & Internal Control Review, CSR planning, Financial Management, Accounting system Evaluation, Internal Control System Development, Paperless Office, Conceptualization, Innovation in Operational performance
Go to Business Support Services
Business Support Services
Recruitment, Back office, Audio Transcription Services, Language Translation Services, Compliance Management, Secondary Research, Data Entry Operations, Social Branding, Technology Enabled Solutions– Web Development, E-Commerce Solutions, Content Digitization, Electronic Payment Solutions etc.
Go to Education & skill development
Education & skill development
Training need analysis. Motivational Trainings, Procedural Trainings, Train the Trainer programs, EDP Programs, Skill Assessment & Certification, CSR skill component planning, Training Facility Setups, CoE establishment, Model Career Centers, Skill Labs, Skill Events organizing, Impact Assessment, Proposal Drafting, Compliance Management, Channel Development, SOPs & Implementation Manuals, Inspections and Validation, Knowledge papers
Go to Start-up Consulting
Start-up Consulting
Business Planning, Brand Management, Prototyping (Minimal Viable Product Development), Prototype Iterating, Co-Founder Search, Legal mentoring, Business Entity Registration, Project Financing, Strategic positioning, Risk Mitigation, Startup Management, Innovative Accounting, Compliance Management
About TSPN
Let you think, beyond you think!
TeamServe Professional Network is company incorporated under Company Act 2013, India with the core objective of supporting small businesses especially budding enterprises and startup entrepreneurs with a wide range of services. We aim to be a one-stop-shop for every service that can be required by an enterprise to excel and deliver best amongst its peers. Since we strongly believe in cost effectiveness as a key to excel in current competitive markets, we have devised most of the service solutions in such a way, which can be remotely delivered with minimal human interaction.
We have a central operations base in New Delhi, India but virtually we are present and digitally enabled to serve any individual or organization across the country. We believe in Customer First approach and hence offer flexibility to customize our services to serve as need based solutions.
Our team
Our professionals come from vastly varied backgrounds and have skills in diverse areas & business functions to support a wide range of service requirements. Our core team is led by innovative, smart working, traditionally learned and professionally qualified servicemen having decades of experience in managing businesses in diversity of sectors such as E-Commerce, IT-ITes, Technology, Manufacturing, Retail, Construction, Education, Skill Development, Social Sector and Finance etc.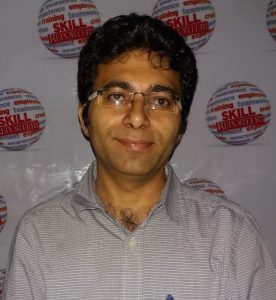 Ravinder Chanana
Principal Consultant